Cyclolivier
Mes voyages à vélo
My bicycle trips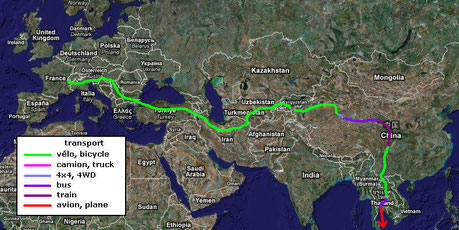 via Italie, Slovénie, Hongrie, Serbie, Bulgarie, Turquie, Iran,
Turkmenistan, Ouzbekistan, Kirghizstan, Chine et Laos.
via Italy, Slovenia, Hungary, Serbia, Bulgaria, Turkey, Iran,
Turkmenistan, Uzbekistan, Kyrgyzstan, China and Laos.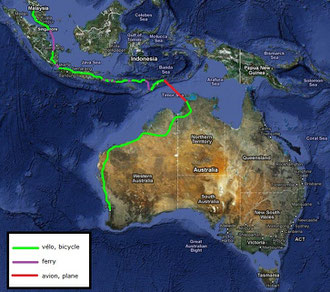 De l'Australie occidentale à la Malaisie
via Timor Leste, Indonesie et Singapour.
from western australia to malaysia
via Timor Leste, Indonesia and Singapore.
Vous voulez vous aussi partir en voyage à vélo ?
Regardez mes conseils pour Plannifier VOTRE voyage.
You also want to go on a bike trip?
Check out my advice for Planning YOUR trip.
Vous êtes un cyclotouriste, débutant ou averti ?
Jetez un oeil sur mes Trucs & Astuces.
You're a cyclotourer, beginner or experienced?
Take a look on my Tips & Tricks.
Vous voulez connaitre les points d'eau et autres infos sur le trajet Perth-Darwin ?
Consultez ma page sur Les points d'eau entre Perth & Darwin.
Want to know the water points and other info on the Perth-Darwin route?
Visit my page on Water points between Perth & Darwin.
NOTE FOR ENGLISH READERS:
I am French so this site will be written firstly in french.
Nevertheless, as most of the people I met rather speak english
(english is also the main language of international communication),
I'll translate as soon as possible the most i can.
For practical reasons, country names are written in French.
You can automatically translate the pages with the Google Toolbar you can download here: toolbar.google.com